Tournament
Beakon 2018
March 10-11 2018
21 Brandywine Dr, Deer Park, NY 11729, USA
From the team that created Long Island Splat, we present our first large Splatoon event, Beakon! Located at AON gaming, and streamed by EndGameTV.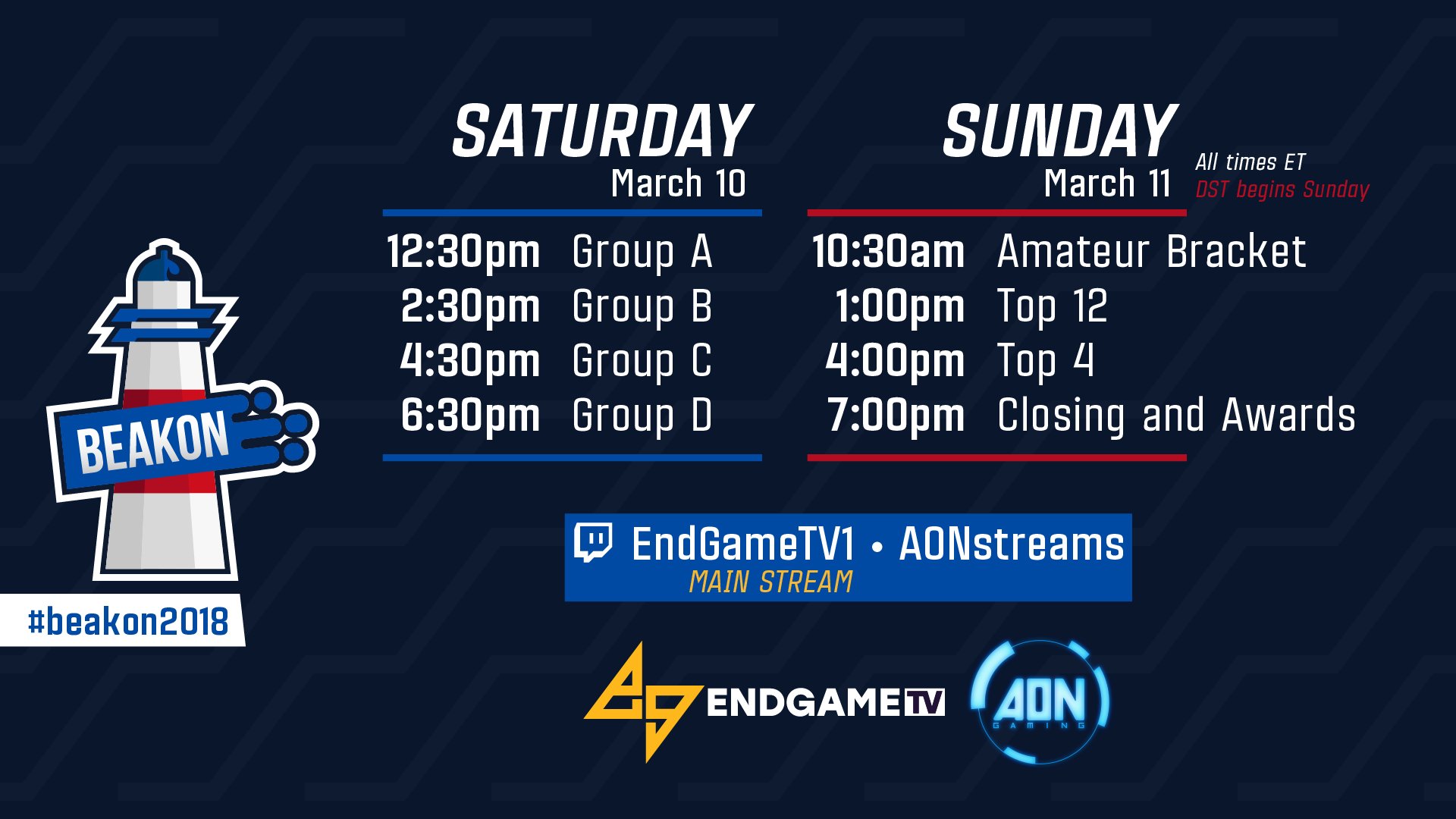 Featuring
40 guaranteed playing stations
$1000 Pot Bonus
Local voice communication and headsets provided
Amateur brackets
Venue fees
Early Registration (until Jan 1st): $40 ($25 venue + $15 event)
Normal Registration (until Feb 25th) : $50 ($35 venue + $15 event)
Late Registration: $65 ($50 venue + $15 event)
Spectate only: $20
Refunds will no longer be given after Feb 18
Event is capped at 128 competitors and 25 spectators.
Spectators have reached its cap! If you are interested in a waitlist for a spectator pass, or need one for a family member in order to attend, please contact us via DMs or in our Discord server.
Location
Venue
AON Gaming
21 Brandywine Dr, Deer Park, NY 11729, USA
Getting There
We do strongly encourage that people carpool (only if you're comfortable with it). Also we would recommend that if you are comfortable with this method, please carpool with those that you live close to or on the way the way to the event. Please join the Long Island Splat discord server to find out more information. (We will create a "Carpool "channel to for those willing to help out)

If you are taking the MTA/LIRR to travel to the event, we recommend that you purchase the tickets that will allow you to take the shuttle to Tanger Mall. From Tanger it is only a five minute walk to the venue.
http://web.mta.info/lirr/getaways/LongIsland/tangerdeerpark.htm
http://lirr42.mta.info/index.php?error=noRoute
AON Gaming does supply refreshments for a reasonable price, and there are many local shops in the area since this is right by a major outlet mall.
Lodging
We recommend the Hilton Garden Inn in Plainview for a hotel, as it is 35 minutes from JFK or LaGuardia airports, and roughly 15-20 minutes from the venue. We do NOT recommend the places immediately around the venue, they are not the best. We have secured several rooms at a cheaper rate! There is a limited amount of rooms, so book as soon as you can to ensure you get the cheaper rate.
Address: 1575 Round Swamp Road Plainview, New York 11803
Link to Book at Beakon Rate: http://hiltongardeninn.hilton.com/en/gi/groups/personalized/J/JFKMLGI-END-20180308/index.jhtml?WT.mc_id=POG
Map
Prizing
$1000 Pot bonus + $15 per player
Total: $2,815
1st, 60%: $1,689
2nd, 30%: $844.50
3rd, 10%: $281.50