Live and Let Die... FIGHT
Stream: https://www.twitch.tv/teamsp00ky
Schedule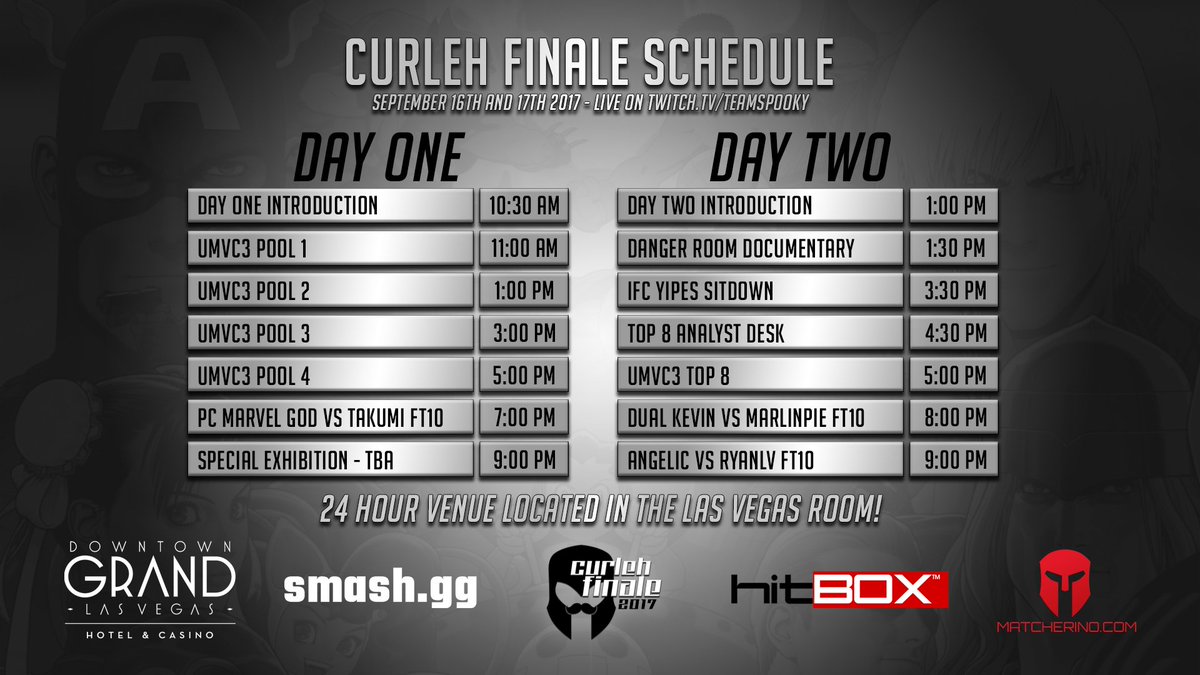 matcherino use code "Curleh" to donate a FREE $1 up to $300!
---
All year long we gathered points from locals, regionals, and majors around the world to find out who would rise to the occasion before the release of Marvel vs Capcom Infinite! Finally, the time has come for the Curleh Finale!
The Curleh Circuit had over a hundred events and over thousands of participants AND COUNTING. We heard the term "Marvel is dead" too many times to count, but with numbers like these and a future like ours, there has never been anything less true. This is thanks to the Marvel community itself! Without this amazing community, this entire event wouldn't even be possible. Thank you for supporting us and we're ready to bring together 6 years of pain, salt, and tears into one bracket this September!
When?
Saturday September 16th & Sunday September 17th, 2017
On September 16th and 17th at the Downtown Grand Hotel & Casino in Las Vegas, our 32 competitors will face off in the most unique bracket in UMVC3's history.
Where?
Downtown Grand Hotel & Casino in Las Vegas, Nevada
The Downtown Grand Hotel & Casino is our official venue and hotel for the Curleh Finale! The Finale is open to spectators! Be sure to book your room through https://www.downtowngrand.com/ for the best prices and use promo code "CURLEH" during booking for exclusive offers! Thanks to Downtown Grand, we will have a 24 Hour Venue, Casino, and an amazing Pool Party! All under one roof! No need to worry about any excessive traveling, just show up and be ready to have an amazing, marvel-filled weekend! The Downtown Grand is even more than just a venue and hotel, they are also sponsoring nearly half of the flights and ALL of the hotel accommodations for our competitors! Their support for Marvel is as real as ours and a big THANK YOU to them for being our sponsor!
With that said, please be sure to view our Curleh Finale E-Artist's Alley! We will be launching it very soon!
Shop?
E-Artist Alley to Launch Soon on smash.gg!
We've curated a selection of artists who have supported UMVC3 for many years and still continue to do so to this day! They've contributed their artwork to our shop allowing portions of the proceeds to go directly to our remaining competitors in need of flights! Please consider purchasing to help support our competitors or even making a direct donation in the Alley on our smash.gg page!
Smash.gg has also provided the Curleh Finale with invaluable support throughout this year! Giving us a platform to launch the Circuit and the Finale did wonders, but they even sponsored TWO Last Chance Qualifiers for this event. THANK YOU SMASHGG!
The Curleh Finale will be much more than just a Marvel tournament! We will have interesting panels, exclusive screenings, exhibitions, salty suites, and MORE! We're turning this event into a celebration of Marvel vs Capcom with many different aspects involved. Join us for a one-of-a-kind weekend that is guaranteed to keep you guessing!
September 16th-17th 2017
NV
Ultimate Marvel vs. Capcom 3
Share
Tweet
Attendees
1
RyanLV
2
3
4
5
6
7
8
10
186
AsianDemon
12
Location
Venue

206 N 3rd St, Las Vegas, NV 89101, USA
Map