Tournament
Smash 4 Boot Camp
December 7-10 2017
206 N 3rd St, Las Vegas, NV 89101, USA
#S4BC Schedule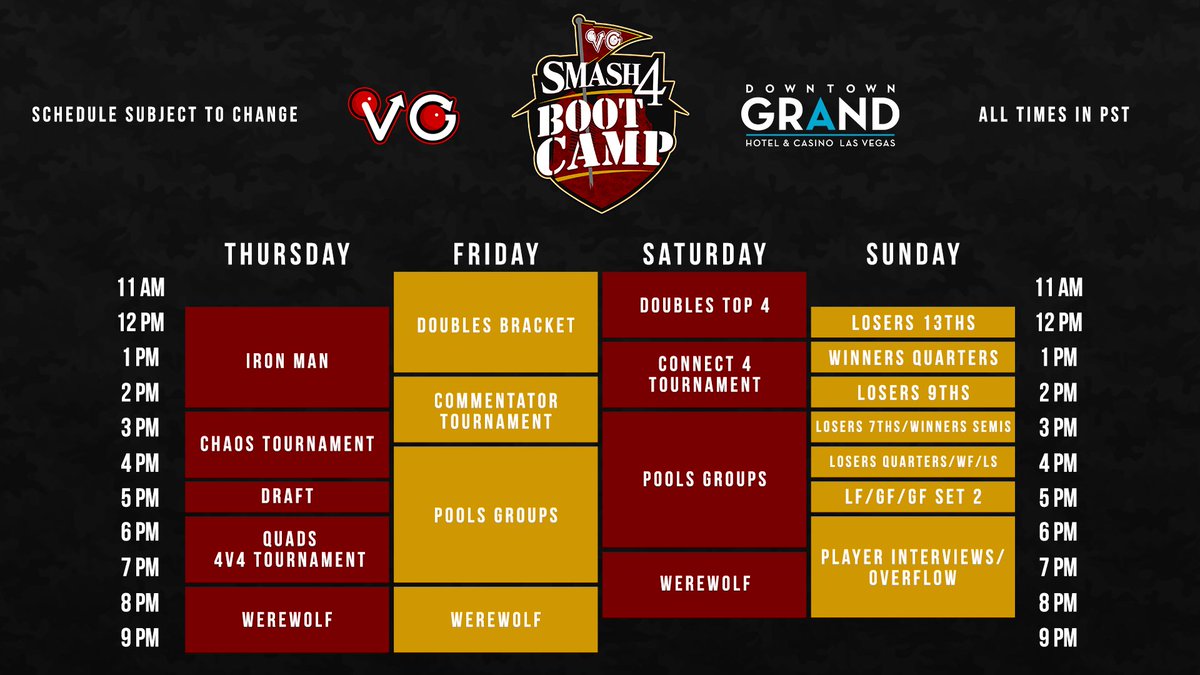 THE SMASH 4 INVITATIONAL EVERYONE HAS BEEN ASKING FOR IS FINALLY HERE WITH $10,000 UP FOR GRABS!
---
VGBootCamp is excited to announce Smash 4 Boot Camp! We've been working on this for a very long time. You guys are going to love it! The event will span 4 days and feature a bunch of laid back Smash 4 fun with the final bracket on Sunday! We're running the event and as per usual we will also be producing and streaming it on our Channel.
---
16 Players Total!
8 Invited:
2 Get in through Championship Events:
The highest placing non-invited player from each event will make it into Smash 4 Boot Camp. If the 2 highest placing non-invited players tie then they will play each other in a 3/5 set to decide who makes it in! If a player cannot attend Smash 4 Boot Camp after qualifiying at a championship event then the next highest placing non-invited player will make it in.
6 will be voted in by you!
We'll be opening voting & announcing our schedule in early November! In the mean time; What kind of cool side events would you like to see at Smash 4 Boot Camp?
Let us know HERE
---
Talent
An event like this is nothing without its talent. That's why we're proud to announce that we have 4 of the most talented Smash 4 casters in the building for the event:
---
Venue
The Downtown Grand LV Hotel & Casino is supporting Smash 4 Boot Camp by hosting us and powering the $10,000 Pot for the event! The event will take place on its own floor of the hotel. We'll have a suite and multiple rooms at our disposal. Stay tuned for more info!
Location
Venue
Downtown Grand
206 N 3rd St, Las Vegas, NV 89101, USA
Map