Tournament
The Holiday Bash Smash Invitational
December 15-17 2017
201 4th St, Oakland, CA 94607, USA
This weekend, 14 of the best Super Smash Bros. Melee players in the world come together to share holiday cheer, and compete in a special invitational at the last event of the 2017 SSBM Rank season. Join us for heated competition, zany side events, wholesome camaraderie, and good-natured, fun Smash action.
Casters:
Blur, Mango (Sunday only), Scar, Toph, D1, HMW
Schedule & Stream:
11 AM PST start time each Friday & Saturday. 12 PM PST start time Sunday.
We will try our best to keep to the following match schedule:
Channel: https://twitch.tv/vgbootcamp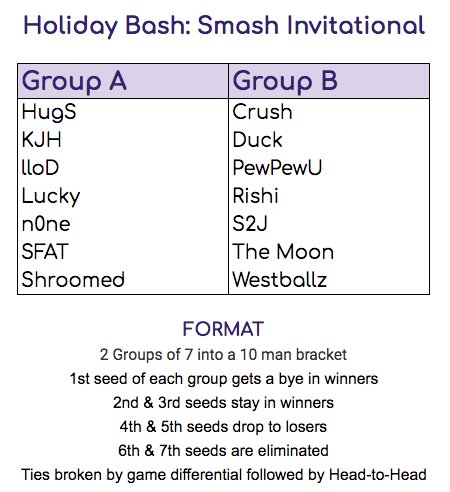 Location
Venue
PK Studios
201 4th St, Oakland, CA 94607, USA
Map
Contact Info